Posted on | June 13, 2010 | No Comments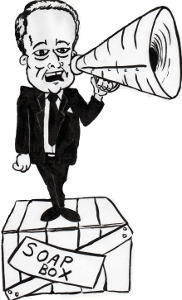 A visit to a Greek shipowner's yacht is a characteristic feature of Posidonia, Greece's iconic shipping jamboree, held every two years in what a local banker calls "the cradle of democracy and denial."
The denial part has to do with a third "d", namely default. For everything about the health of the global, and therefore Greek, shipping industry, has to do with the effect of future Greek default on its IMF loan obligations.
Next September, an IMF team will visit Greece, to find out if in fact the government has in place the stringent austerity measures agreed to at the time of the Great Bailout of nearly two months ago.
There is no doubt that Greece will receive the first tranche of its bailout money. But, there is a growing conviction here that the IMF,  er, German, scrutineers will find that this government's woes have actually
worsened, and that the "loan" was and is in fact an irreversible gift.
Great will be the wrath of Merkel. Greater still will be the wrath of the German taxpayers. Anguished will be the holders of Greek bonds.
This is a Bad Thing, as the authors of 1066 And All That once said. Because, once default here takes place, down will go the European economy. Don't buy any container shares if that happens.
Oh, yes, my friend's yacht. He named it for his oldest daughter, but says that if he had a second choice, it would now be "LINGERING DOUBTS".
Why that particular choice?
"Because I've had lingering doubts that the future is as rosy as my bankers say".
I asked him why. ""Look at the values. Ship values are mostly headed south. The prices of second-hand ships bottomed out at too high a level. Our shipping recession was too short. So, what are our golden Greeks doing now, Maitland?
They are ordering new ships from Chiinese and Korean yards. Only one million dry bulk tons, that we know for certain, went to the scrapyard so far this year. We stillhave no clear picture of what the world orderbook looks like, but my guess is that what is actually going to be built is maybe 22% capes, 44%panamaxes and 33% handymaxes.
Banks — the ones still in the business — are willing to lend the right people 60% to 65% for a newbuilding. Something's wrong with this picture. I definitely have lingering doubts."
Comments