Posted on | June 3, 2010 | No Comments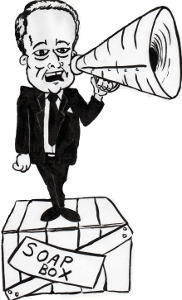 I'm taking a few days off before the stress of Posidonia, the biennale of shipping staged for the past 40-some years by Greece.
It's always good to unwind, and Crete is a famously lovely island, redolent of mimosa, oleander and Homer's wine-dark sea. It is also redolent of history. Minoan civilization flourished and died here, snuffed out by a tsunami from Santorini's explosive eruption 4500 or more years ago.
That gives perspective. The euro's nosedive and the Gulf of Mexico oil spill look like manageable episodes against the
events of more recent times. The blood shed here in Canea, as we spelled it then, 69 years ago, is marked by the British military cemetery eight miles away on the outskirts of Souda (Suda Bay); the German military cemetery some distance further on; the Greek military cemetery; the Commonwealth military cemetery; and so on.
Things could be worse than they are now — and they have been, just down the road from here. Only a few years, or indeed months ago, the motto of offshore oil was "drill, baby, drill", and the euro was about to become the world's new reserve currency.
Events have consequences. Sometimes, they leave behind rubble, along with vanished hopes and expectations. Reputations and cherished beliefs go up in smoke.
For example,   the May 29 issue of the Financial Times lists BP as the world's eighteenth largest company,
market value 177 billion dollars, assets 238 billion dollars and more than 80 thousand employees. We'll have to see how that goes.
The people here in Souda and Chania are showing a preference for dollar bills over euros; consequences, indeed.
What will the economic consequences of the oil spill be? We don't know, but I'm reminded of that recent movie about oil wildcatters: "There Will Be Blood".
I do not believe that offshore drilling is completely dead in U. S. waters, including the Arctic, but it may be. It looks badly wounded. If so, expect a lot more imports of foreign-flag tankers, with the implied risk of tanker-related oil spills to come.
That means still more regulatory restrictions by the U. S. Federal and state governments. Hence the reason for industry concern about the sanctity of the 1990 Oil Pollution Act, as it applies to tanker vessels, limits of liability, and expansion of the list of directly responsible parties.
Many things have changed since 1991, when that law went into effect; the rise of powerful oil trading firms, sometimes called the Vitol effect, being just one.
The issue of "who chooses the tankers", and therefore of quality of the vessels and crews, is with us yet, and becomes even more relevant if tanker traffic to North America is about to expand. We'll have to see how that goes, too.
Another economic consequence: marine insurance faces a very different, and uncertain, future. The U. S. Congress is now fully aware, as it was in 1990, of what a bad thing limitation of liability is. Can Brussels be far behind? The enormous damage and loss claims emanating from the U. S. Gulf states will far exceed anything the London market has seen since the second world war. Yes, there will be blood.
Let's talk about risk. Until now, among the oil majors, risk awareness, and its management as a corporate budget item, has been something unfashionable, even unclean, like corporate social responsibility. No longer.
To paraphrase King Edward VII, we're all tree-huggers nowadays. When a few friends and I set up the North American Marine Environment Protection Association (NAMEPA) three years ago, we were mocked as "Sierra Club Salties".
Reputational risk is back, environmental risk is a growing cost factor, risk management has a new meaning, and the wildcatter ethos is fast eroding in the executive suite.  And don't forget Brussels. When Washington sneezes, Brussels catches cold a year or two later. Regulation will spread.
The new political climate means a greatly altered regulatory climate as well. There's climate change for you. And that tanker-related oil spill hasn't even happened yet.
Comments