By Clay Maitland
Posted on | February 19, 2018 | No Comments
New York: Where Maritime Arbitration Began
By Clay Maitland
Article first appeared in NYMAR (New York Maritime Inc.) – New York is the Capital for Shipping
By Sophia Gangei
Posted on | February 19, 2018 | No Comments
This interview appeared in The Maritime Executive – January/February 2018 Issue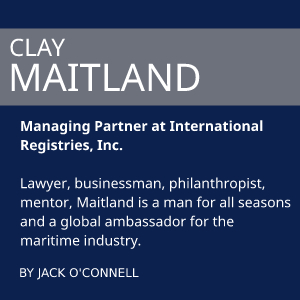 What attracted you to the maritime business?
I went to college at Columbia University and then Law School at New York Law in Lower Manhattan. My stepfather, who had a lot of contacts in banking and the legal profession, suggested that I apply for a job at Burlingham Underwood and Lord. I did and, to my surprise, received an invitation to come down and interview with them.
As it turned out, I only got a few job offers and chose the one from Burlingham because it was an admiralty law firm. I had never studied admiralty law, and I admitted it to the partner who interviewed… Continue reading
By Sophia Gangei
Posted on | January 3, 2018 | No Comments
Clay Maitland has endowed two scholarships for students entering the maritime industry:
The Clay Maitland Scholarship in International Transportation, at the State University of New York Maritime College (Ft. Schuyler), for the benefit of students in the Master of Science degree program in International Transportation Management;
The Virginia Maitland Sachs Charitable Scholarship Fund at the Massachusetts Maritime Academy, Buzzards Bay, MA, for the benefit of students at the Academy.
&nbsp… Continue reading
By Sophia Gangei
Posted on | May 23, 2016 | No Comments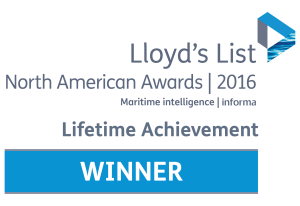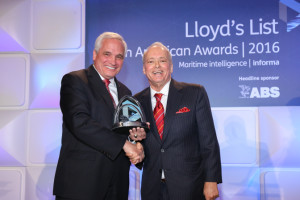 By Clay Maitland
Posted on | February 20, 2015 | No Comments
6th Annual Capital Link
Greek Shipping Forum
"Opportunities & Challenges"
Tuesday, February 24, 2015 – Athens, Greece
When I chose this title, along with Nic Bornozis, I might have been thought to be drunk or crazy. It is, after all, hard to find one, let alone ten, such "signs".
There is an old saying: "if you seek a sign, look to the heavens".
Well, I've tried looking everywhere else, with mixed success.
Certainly, we in this industry have been assailed by what the bible calls "job's messengers", or false hopes.
These are therefore hard times also for Chinese ports, Norwegian offshore shipowners and us investors.     Just to name three categories.
Recently, the Baltic Dry Index (BDI) put a number on the… Continue reading
By Clay Maitland
Posted on | January 21, 2015 | No Comments
In this 37th interview in the series, Clay discusses the need to make sure seafarers' port access rights are respected while they're on ships calling on U.S. port terminals, especially as it relates to Section 811 of the Coast Guard Authorization Act legislation. He also discusses his involvement with the North American Maritime Ministry Association (NAMMA) which is working to support this legislation… Continue reading
By Clay Maitland
Posted on | January 12, 2015 | No Comments
In this 36th interview in the series, Clay discusses the issues surrounding the June 2013 MOL Comfort sinking after it was announced last month that claims against Mitsubishi Heavy Industries (MHI) for the loss of the ship are now amounting to over $500m, with more than 100 claimants joining the Tokyo court legal action headed by Mitsui OSK Lines (MOL). Clay points to certain classification societies and shipyards in assessing responsibility for disasters like these, but stresses the complexity involved in addressing the problem… Continue reading
By Clay Maitland
Posted on | September 11, 2014 | No Comments
Last year, at a Coast Guard Foundation dinner in Seattle, Carleen Lyden-Kluss and I bid on and won a one-way trip aboard Midnight Sun, a ro-ro trailer ship operating between Tacoma, Wash., and Anchorage, Alaska. Our attention was attracted by the fact that Midnight Sun's owner, Totem Ocean Trailer Express (TOTE), a member of the Saltchuk group of companies, has a well-earned reputation for innovation combined with careful attention to efficiency and performance. Midnight Sun is one of two Orca class ships, purpose-built for the Alaska trade. Carleen and I have been active in advocating a need for growing attention to Alaska's maritime future, including its growing maritime connections with the "Lower 48"and with the expanding economies of Asia. As co-founders of the North American Marine Environment Protection Association (NAMEPA)… Continue reading
By Clay Maitland
Posted on | July 28, 2014 | No Comments
In this 19th interview in the series, Clay Maitland discusses importance of fostering communication between maritime educational professionals in this country, from the maritime high schools and vocational schools though the union institutions and the maritime academies, to compare notes on curricula and interface with industry. He proposes a large-scale National Maritime Education Conference to be held in Washington D.C. in the September-October 2015 timeframe… Continue reading
By Clay Maitland
Posted on | July 21, 2014 | No Comments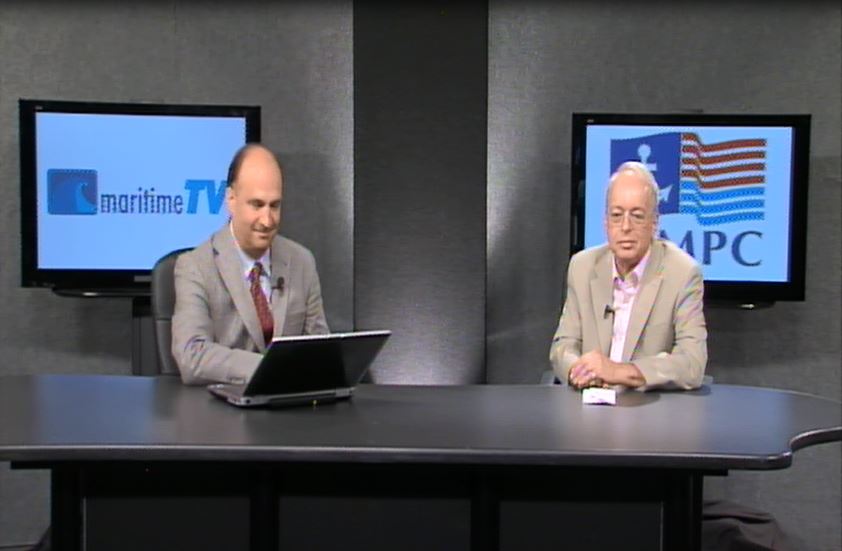 The Chairman of the Merchant Marine Policy Coalition (MMPC), Clay Maitland, today applauded the Senate confirmation of MARAD Administrator Paul 'Chip' Jaenichen.  Stating that this confirmation is "Well deserved and long overdue", Maitland congratulated Jaenichen and wished him well on the ambitious and necessary work that lies before him.
Coincident to Tuesday's news, Maitland had released a webcast on Monday calling for the confirmation.  "Congress has been relaxed on taking a position on maritime policy. With Russia, the South China Sea, the Middle East and more, we are facing global challenges analogous to the late 1930's.  We need a strong US flag merchant marine to provide sealift capability.  Chip has been leading
keep looking »